Commercial Lawn Service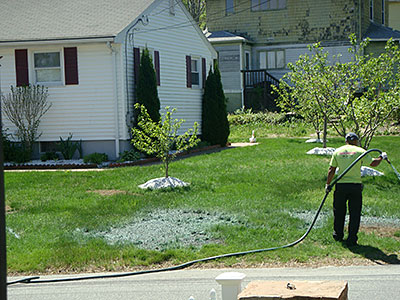 Your commercial property is a reflection of your business. You want your clients to be impressed by it, instead of being put off. Most businesses pay a considerable amount of money to design and install great lawns on their property. Their goal is to impress their clients at first sight. However, lawns aren't something you can install and just forget about. They need to be maintained and groomed. If you don't pay attention to them, they might grow wild or look unkempt. That won't leave a favorable impression on your clients.

To avoid this, you need a commercial lawn care service. After all, unlike the lawns in your home, this can't be a DIY project. Most commercial lawns are enormous and need special tools. Moreover, the state of your lawn would also affect your business reputation. It's a better idea to assign this job to a professional. All you need to do is give us at DaCosta Co. Inc, a call. We have worked with several businesses in Milford, Holliston, Franklin, Upton, Bellingham, Medway, Sherborn, Wellesley, Newton and Mansfield, MA. We maintain their lawns so that they can focus on their company. No matter how large or small the project is, we can handle it.


Our Commercial Lawn Service
Lawn maintenance is much more than just mowing the grass and making sure that it's watered. If you want your lawn to always look green and healthy, you need to make sure that it receives proper care. So, what is involved in commercial lawn maintenance?
Mowing - This is the primary, most basic care that any lawn needs. You need to cut the grass to not just maintain the lawn's looks, but also its health. We don't cut any more than just 1/3rd of the length of the grass, which ensures you have a lush green lawn. We also leave the clippings on the ground because they encourage better growth.
Fertilizing - Lawn grass is resilient only when it has received ample nutrition. For healthy grass, about seven treatments are needed over the course of the year. We provide these treatments as a part of our annual lawn care services.
Liming - Grass draws nutrition from the soil as well. For them to be healthy, the soil can't be too acidic. Liming will help maintain the ideal level of pH balance in the soil, ensuring that your grass grows well. We maintain an ideal level of 6.5 to 7.
Weed Control - If the grass is healthy and thick, weeds aren't likely to grow amongst them. Nevertheless, we apply pre-emergent and post-emergent weed control during different times of the year to ensure your lawn is free of weeds.
Hydro-Seeding: this is a process of planting seeds with the use of a slurry made up of seeds and mulch. It is often used as an erosion control method for construction sites in particular. The slurry mixture is usually transported in a tank via a truck and then sprayed over the designated area. This is the ideal method for planting larger areas for it takes only a fraction of the time compared to sowing dry seeds.
If you want to know more about commercial lawn service and all the other services we offer, feel free to get in touch with us here at DaCosta's Landscaping You can give us a call at 774-573-7029 or fill in the contact us form on our website. We'll be happy to answer your questions.