Residential Masonry Services in Holliston, MA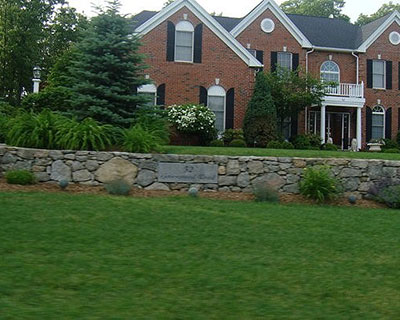 A residential landscape provides a beautiful backdrop to the house that stands on the property. In fact, the landscape is one of the first things that any visitor to your home notices. Taking care to ensure that these spaces are designed expertly and installed well, is one of the best ways to make sure that the outdoor areas set the mood for the interior styling of your home.
Residential masonry design and installation is a specialized job and hiring a skilled and proven company for your project is one the best ways to ensure you get the type of features you want. Companies like us here at DaCosta's Landscaping cater to residential clients in Holliston, MA, and surrounding areas.
Types of Masonry Features
We have many years of experience in designing and installing a variety of masonry features such as:
Driveways
Walkways and pathways
Retaining walls
Garden steps
Entryways and porches
Slabs and footings
Patios and decks
Other hardscapes
Outdoor Concrete Installations
Concrete is probably one of the most widely used materials in garden and yard design projects. It is used in the installation of patios, decks as well as any other areas that have flatwork. The technology used in the installation of concrete features has advanced in a big way over the years. It is now possible to create very stunning concrete surfaces in outdoor areas. There are different finishes to choose from such as:
Stamped concrete
Stenciled concrete
Colored concrete
Polished concrete
Stained concrete
Pave-cut concrete
Concrete with aggregates
Concrete Installations - Aspects to Consider
Since there are so many different concrete options to choose from, you can rest assured that the outdoor spaces on your property will have a very alluring and attractive look. When residential masonry contractors are installing any concrete surface in your landscape, they focus on several different aspects such as:
Safety - This is one of the factors that need to be prioritized when any outdoor concrete work is being done on your property. Plain concrete surfaces can become slippery, especially in the rains. It is possible to use textures or tinning procedures to add some traction to the surface.
Waterproof Coatings - Concrete is quite a resilient material and is ideal for outdoor spaces. However, it helps to coat these surfaces with chemical-resistant applications, which provides an additional layer of protection.
Expansion Joints - Concrete can crack and flake with exposure to the elements as it contracts and expands through the seasons. Professional concrete contractors make it a point to install the expansion joint while the work is in progress. This goes a long way toward preventing concrete surfaces from developing cracks over time.
If you want residential landscaping features that will be functional, aesthetically appealing, and durable, hire the services of a reliable and experienced company like DaCosta's Landscaping. They would be able to tailor solutions and ensure that your patio, driveway, walkway, or deck are designed to perfection and installed at a reasonable residential masonry cost.