Hardscape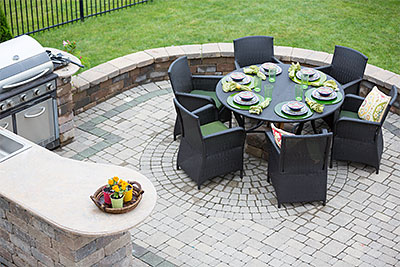 When people think about landscapes, they think about grassy lawns, gardens, trees. There are several other, installations on your backyards as well. These installations are usually referred to as hardscapes. Hardscaping involves planning and installing non-living structures that are usually permanent.

They require an entirely different set of skills. Ideally, you want your hardscapes to last for as long as your home. They require considerable investment to install as well. Needless to say, you need a trustworthy contractor to handle the job. That's why you should call us at DaCosta Co. Inc.

With over two decades of experience, we know hardscapes like the back of our hand. We've successfully installed several structures in Milford, Holliston, Franklin, Upton, Bellingham, Medway, Sherborn, Wellesley, Newton and Mansfield, MA. Our experts ensure that all of our installations are of high quality and durability.


What Do Our Hardscape Services Include?
We provide comprehensive hardscape services. No matter what the scale and scope of your project, we can accomplish it for you. We will build the following structures in no time and with expert skill.
Driveways - Driveways are some of the most important hardscape installations on your property. After all, they're the primary way to access to your home. Ideally, a driveway should last for as long as your home does. It needs to endure frequent traffic, all of the harsh elements, and constant wear and tear. Because of that, it needs to be resilient. Our experts will ensure that your driveway is installed correctly. You can choose materials like brick, concrete pavers, interlocking pavers, stone, etc, for your driveway.
Walkways - These connect different elements of your landscape. For example, it'll connect your lawn to your pool, or your pool to your patio. The general idea is to ensure that you can navigate through your property freely.
Outdoor Kitchens - If you're someone who loves to cook and entertain, an outdoor kitchen is an ideal installation for you. You can host dinner parties, BBQs, and get-togethers on your patio and prepare the food in your outdoor kitchen. Outdoor kitchens are becoming increasingly popular. They're great solutions for people who are social and love having guests over. We build outdoor kitchens that are resilient and functional so that you can enjoy them for a long time.
Hardscaping Materials
The look, feel, and the resilience of your hardscapes depend on the materials you use. We can work with different kinds of materials. Our experts will help you determine which one is the best fit for your budget and your taste. The materials we commonly use are:
Natural stone
Brick
Concrete Masonry Units
Concrete Pavers
Interlocking Pavers
Permeable Pavers
And much more.
If you want to use a different material, all you need to do is ask us. If you want to know more about hardscape and all the other services we offer, feel free to get in touch with us here at DaCosta's Landscaping You can give us a call at 774-573-7029 or fill in the contact us form on our website. We'll be happy to answer your questions.