Residential Landscaping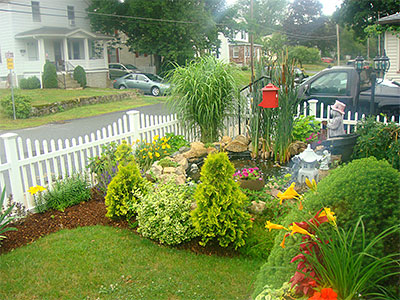 Everyone desires a beautiful home. You want both your indoors and outdoors to look great and attract compliments from your guests. Most people lovingly and carefully design and decorate the indoor spaces in their homes. But when it comes to the outdoors, many don't understand exactly what would make their backyards and gardens look good. Most homeowners need professional guidance on different aspects of landscaping. At DaCosta's Landscaping, we work with you to come up with the best residential landscaping design.

Our team has installed several landscapes in Milford, Holliston, Franklin, Upton, Bellingham, Medway, Sherborn, Wellesley, Newton and Mansfield, MA. We understand what most homeowners want. They want value for money as well as beauty. We know that with the right planning, we can deliver great landscapes at affordable rates.

We're fully capable of handling all sorts of residential landscape projects, from small installations to big remodeling projects, we can handle them all.


Our Residential Landscaping Services
Residential landscaping has a different set of demands. While the scope of the project is smaller than commercial landscaping, no one can deny that residential ones can be more complicated. The landscape doesn't just reflect your taste, but it also affects the value of your property. Our team is very careful when they bring your garden landscape design to life. With us, you get:
Professional Advice - We've noticed that most of our clients don't approach us with a clear idea of what they want. They might have a picture with them or some vague notion and a budget, but rarely a solid plan. But that's what our designers are for. They'll offer solid advice, making sure that your landscape doesn't turn out to be a disaster. They'll advise you on the design, the budget, and the feasibility of installations. That would stop you from making any glaring mistakes.
Great Designs - Our team will take the time to understand your vision and requirements. Once they know what you want, they'll start working on great designs that make your home shine and increase your curb appeal. Our designers have several years of experience in this industry and know just how to interpret your words into a picture. Our designers are well aware of the latest trends in landscaping design and will use their knowledge to create a beautiful and unique landscape for you.
Professional Installation - A great design is useless if it's not executed well. Our team of expert masons, gardeners, and landscapers will make sure that your installation is of high quality and will last for a long time. We have several years of experience in this industry and can handle all kinds of installations.
If you want to know more about residential landscaping and all the other services we offer, feel free to get in touch with us here at DaCosta's Landscaping You can give us a call at 774-573-7029 or fill in the contact us form on our website. We'll be happy to answer your questions.