Landscape Maintenance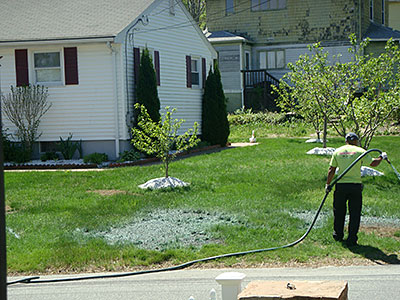 Residential and commercial landscapes should be well-maintained at all times. No one wants to live or work in a place where the outdoor landscaping is unsightly. Aside from being unpleasant to look at, the value of the property may significantly decrease. However, some property owners think that landscape maintenance is an easy task since mowing and trimming can be done in a DIY manner. But maintaining landscapes requires skills, time and resources to achieve positive results. Careful planning is also necessary to come up with the most ideal maintenance plan.

At DaCosta's Landscaping, we provide clients with professional landscape maintenance services. From planning and onsite visits to performing various lawn care tasks, we make sure that they are done systematically and efficiently. We currently cater to the following areas: Milford, Franklin, Holliston, Upton, Bellingham, Medway, Sherborn, Newton, Wellesley, and Mansfield, MA. We are known in these areas for our meticulous handling of clients' landscapes.
Lawn Care
Your lawn needs continuous maintenance work to stay beautiful, regardless of its size and location. Watering, trimming, mowing, fertilizing, mulching and aerating are just some of the tasks required to maintain its health and vigor. The lawn care plan should also include the proper functioning of irrigation and drainage systems. Since not everyone has the time to perform these tasks, it's better to hire a professional landscape maintenance company like us.
Landscaping
Landscaping is essentially a combination of softscapes, hardscapes, and water features. These landscape elements make a property attractive and functional. However, they must be maintained to encourage growth and ensure the proper functioning of other elements. Pavements and stone features need to be cleaned and sealed from time to time. Water features like ponds need to be filtered to prevent bacteria from growing, and the machines that make them run need to be thoroughly cleaned and maintained. Meanwhile, the trees and shrubs need to be pruned, watered, and fertilized.
Fertilizer
It is important to choose the right type of fertilizer to ensure the proper nourishment of your plantings. Certain factors must be considered such as the type of grass, shrubs, and trees installed in the landscape. Soil conditions and the health of your plants will also help determine the correct fertilizers to use.
There are various types of fertilizers that can be used on your plantings such as complete inorganic, special purpose, organic, liquid, and slow-release fertilizers. We may also use a fertilizer with insecticide when necessary. However, our most preferred type is the organic kind because it is safe on plants and the environment. We also consider the season when applying fertilizers. Warm-season grass needs to be fertilized in early spring, while cold season grass needs to be fertilized not later than fall.
Weed Control
The presence of weeds will make your outdoor area look unappealing. It may also attract pests and diseases if not addressed immediately. The best thing to do is to call the help of professionals to control and eliminate these nasty weeds. Your contractor can use different weed control methods, such as preventive, mechanical, biological, and chemical. At DaCosta's Landscaping, we use proven solutions to counter weed infestation. We are experienced when it comes to dealing with even the most intractable weeds on your lawn. We ensure that only industry-approved pre-emergent weed control solutions and anti-weed agents are used on your lawn or landscape.
For reliable, cost-effective, and outstanding landscape maintenance service, call DaCosta's Landscaping today.
"MORE ARTICLES"