Landscaping
All kinds of landscaping projects should be carefully planned and handled only by experienced landscape contractors. There are certain tasks that only skilled and properly trained people can do like the installation of softscapes and hardscape features. The correct combination of plantings is also achieved if the landscaper is knowledgeable about the plants' unique characteristics. Meanwhile, the hardscape elements, such as walkways, retaining walls, and outdoor living amenities, are placed in their perfect spots in the landscape.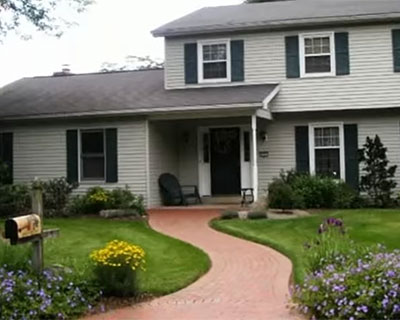 If you are a property owner who wants a superbly designed and professionally installed landscape, your search ends with us. DaCosta's Landscaping offers comprehensive landscaping services to residential and commercial clients in the state. Our service offerings cover planning, design, site development, installation, and maintenance. By entrusting your project with us, you will be assured of an exquisitely designed landscape that will make your property stand out. Call us now if you're from Milford, Franklin, Holliston, Upton, Bellingham, Medway, Sherborn, Newton, Wellesley, Mansfield, and other MA areas that we serve.
Landscape Design
Designing landscapes is a tricky business that requires expert knowledge of the design elements and techniques Aside from these qualities, your landscaping contractor must be very creative to achieve unique but beautifully landscaped properties. At DaCosta's Landscaping, we take landscape design to a higher level by following a time-tested set of methods that allow us to guarantee extraordinary design plans for our clients.

We do ocular visits before proceeding with the design process so we get a comprehensive idea of the landscape's topography, existing structures if any, and other details that matter in the design. When we talk with clients, we ask about their needs and preferences, their budget limitations, and their expectations. We likewise use modern computer software to render highly detailed, realistic design renditions. All these help us come up with a landscape design that is inclusive, functional, safe, and absolutely stunning.
Landscape Ideas
There are a lot of landscaping ideas that we can share with our clients. We can suggest common landscape designs that highlight the softscape elements or recommend a more personalized design based on your needs and lifestyle. You can also opt for an eco-friendly landscape by requesting the use of drought-resistant plantings and LED lighting. We can also create spots for rest and relaxation, such as ponds, waterfalls, pool decks, gazebos, and patios.
Landscapes
The landscapes that we create are known for their unique beauty and creative use of various landscape elements. We can achieve this kind of landscape because of our extensive experience in the landscaping industry. We also have people who are highly skilled in various aspects of landscape design, installation, and maintenance.
Lawn Care
Maintenance is one of the areas of landscaping that must be handled by professionals. There are certain lawn care tasks that require special tools and expert knowledge of maintenance crews. These tasks include mowing, pruning, trimming, fertilizing, weed control and core aeration. We perform these tasks using task-appropriate tools, such as riding mowers, loppers, pruning shears, spreaders, and aerating tools. If you want a well-maintained lawn or landscape, just call us at (774) 573-7029.

"MORE ARTICLES"