Lawn Care
A clean and attractive lawn makes an outdoor area more inviting and functional. However, having an eye-catching and well-manicured lawn doesn't happen overnight. Property owners must be committed and provide enough time and effort to ensure that the grass is always green, and that ornamental plants and trees are kept healthy. Unfortunately, today's fast-paced life is denying more and more people the joy of tending their own lawns. Most of them just opt for the services of professional lawn care companies.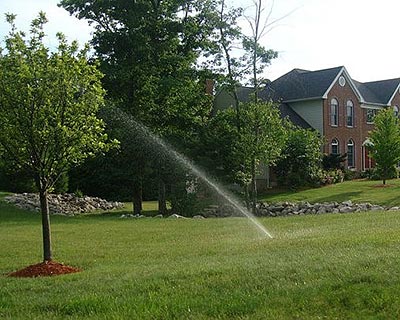 If you are one of those who are hiring the services of landscape maintenance contractors, make sure that you're getting the right company. Look for an experienced, knowledgeable, and capable service provider to enjoy a spic and span lawn all year long. At DaCosta's Landscaping, you are assured of timely, reliable, and professional lawn care services. Over the years, residents of Milford, Franklin, Holliston, Upton, Bellingham, Medway, Sherborn, Newton, Wellesley, and Mansfield, MA have been relying on our services. Our clients from these areas are more than satisfied with how we take good care of their lawns. Please call us today so we can also create the perfect maintenance plan for your lawn.
Lawn Service
If you see unsightly weeds and brown patches of grass on your lawn, it's time to get a professional lawn service provider. Before choosing just any company to tend your property, make sure that you do a thorough check of its credentials. Ask what kind of tools it uses, how many trained personnel it has, and the years that it has been operating in your area. Additionally, it is also important to get feedback from its clients and customers. It will help you find out if it is reliable and trustworthy.

But if you don't want to go through this process, just hire us. Our company has an impressive track record, skilled people, and the best equipment for the job. We combine time-tested techniques and modern tools to provide the best lawn care service to all our clients.
Lawn Maintenance
Lawn care is not just limited to mowing, weeding, and watering. Everybody knows that it takes more time and effort to keep lawns looking their best all year round. Different lawn maintenance tasks are required to address the needs of the turf and other plantings. For example, lawns must be cared for and prepared for the winter season. Various maintenance tasks must also be performed during the spring season to gently tease plants and trees back into their best form. Seeding, mulching, pruning and fertilizing are other tasks that must be included in the maintenance plan. These tasks are best left to qualified and experienced professionals.
Lawn Fertilizer
One effective way to keep your lawns lush and green all the time is to use lawn fertilizer. This is another important task that must be performed in the right season. If lawns are not fertilized regularly, grass and plant growth can turn uneven and scraggly. By hiring the services of lawn care specialists like us, you can avoid these scenarios. We know the best time to treat and type of fertilizer to use on different grass types.

"MORE ARTICLES"

Landscape Design
Landscaping
Pavers
Masonry
Landscape Maintenance