Masonry
If you aim to make your landscape more functional and beautiful, one of the easiest ways to do that is to have masonry features installed by our crews. Amenities like patios, gazebos, and decks can effortlessly turn your outdoors from simple to stunning with the right design and use of premium materials. Meanwhile, some pieces even have critical functions such as retaining walls. Given these factors, it is a must that all your outdoor features and amenities are made from the finest materials and installed by experts like us.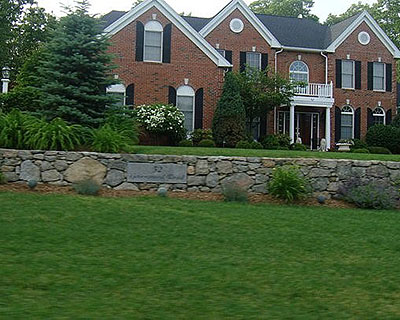 Since 2002, DaCosta's Landscaping has been making top-quality landscape amenities for clients across Milford, Franklin, Holliston, Upton, Bellingham, Medway, Sherborn, Newton, Wellesley, and Mansfield, MA. Our seasoned masons are the perfect people to hire if you need world-class masonry features in your landscape. We can create such amenities using the materials that you prefer - natural stones, concrete, or bricks. Whether you desire a handsome pool deck, a well-appointed outdoor kitchen, an antiquated patio, or a modern driveway, we are ready to take on the challenge for you.
Retaining Wall
This wall type is common in homes or properties with a slope or carefully planned landscaping. A retaining wall is primarily built as a slope protection structure but can be installed to actually enhance the aesthetics of any outdoor space. It can improve the safety of any property provided that the wall is carefully designed and constructed using top-quality materials. The common designs for retaining walls are gravity, cantilevered, anchored, sheet, and bored pile. They can be built on hilly slopes or areas where there is loose soil that could damage nearby structures or hurt anyone in case of erosion. These walls can also serve as pocket gardens where ornamental plants and even cash crops can be planted.
Pavers
Among the most versatile materials used by masons all over the world are pavers. Their wide range of application includes decks, outdoor kitchens, driveways and walkways, patios and gazebos, parking lots, esplanades, and a host of other landscape amenities. These types of paving materials possess qualities that make them stand out as the materials of choice by masonry contractors like us. These qualities include easy installation, ease of maintenance, durability, aesthetics, and versatility in terms of design choices. Our team can recommend the right paver materials and design based on your expectations or you can just tell us your preferred paver design from our catalog.
Retaining Wall Blocks
The structural integrity of the retaining wall largely depends on the materials used. As rule of thumb, the blocks must be durable so the walls can properly take the load no matter how heavy it is. Additionally, the retaining wall blocks should be attractive enough and flexible design-wise so they can blend in with the rest of the landscape structures. At DaCosta's Landscaping, we prefer the use of the segmental wall blocks because they allow for easy installation with a guaranteed snug fit, hence ensuring long-lasting walls that are also eye-catching.

If you wish to know more about our professional masonry services, please don't hesitate to contact us at (774) 573-7029.

"MORE ARTICLES"

Landscape Design
Landscaping
Lawn Care
Pavers
Landscape Maintenance